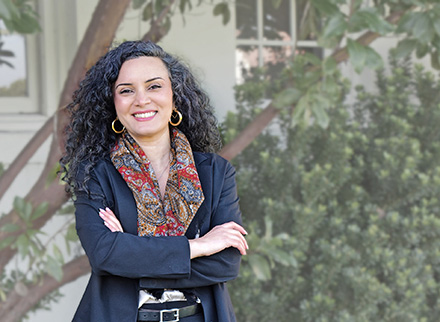 After eight years of leadership at TEF, Maryam Rostami, AIA, NOMA, LEED, LFA has been elevated to Principal. Her practice is rooted in her innate compassion for the well-being of others and her meetings notoriously begin with personal check-ins. An outspoken agent for social justice, she's been instrumental to expanding TEF's equity reach and cultivating a practice culture that prioritizes balance.
"Maryam embodies the values that underlie the future of our practice. She's a deep thinker and clients say they can listen to her all day," notes founding Principal Douglas Tom. We sat down with her to do just that.
What qualities make a good leader?
Compassion, vision, keen listening skills, and courage to take action.


What do you find exciting about the profession right now?
I'm looking forward to all the ways that we will rise to the charge of alleviating the global climate crisis. Our clients are looking to us for guidance on how to build more responsibly, and we are getting more and more educated about what that looks like. I am keen to continue my work in adaptive reuse of existing buildings, since the greenest building is the one that is already built. I am also excited about the changing landscape of our profession and look forward to the day when our ranks look and sound like the people we are meant to serve. In other words, I'm ready for the profession's demographics to reflect our contextual demographics.


Most in our industry have pledged their commitment to dismantling racism and addressing inequity. But how does a mid-sized practice like TEF foster actionable JEDI (Justice, Equity, Diversity and Inclusion) measures through its work and actually make an impact?
Knowledge sharing is a core value at TEF and much of our early and continuing efforts have centered on supporting awareness, discussion, research, and peer-to-peer education. Our internal JEDI Committee has advanced a deeper understanding of relevant systems of inequity and racism – ranging from workplace bias to discriminatory practices in design and city planning – that are leading to internal refinements in standards of practice and to feasible initiatives that can nudge the social justice needle. We are focusing our internship programs and relationships with local youth programs to target underrepresented students and making strides in diversifying our staff ranks to better reflect our community demographics. And, we are currently discussing integrating equity measures as part of our project pursuit criteria and exploring ways to exercise design as a way to advance social equity.
Other actions that even smaller firms can take include pursuing the International Living Futures Institute JUST label, bringing in outside speakers and experts to educate staff, and encouraging architects and designers in their advocacy work outside the office. Walking the talk is not easy, but we are compelled to do our part.


The profession's awakening to social equity imperatives has been a silver lining to an otherwise difficult time that has tested our resilience. As we emerge from yet another pandemic spike, and grapple with shifts in workplace norms, is there anything top of mind?
I've been thinking about the nature of work, and the paradoxical role of technology in our lives. Technology and its long promise to ease the toil of work has also become a source of exertion in itself. I am grateful for the powerful applications that enabled our resilience during the pandemic, as we accelerated the adoption and reliance on communication and collaboration tools. But there is a price to pay for being constantly available.
Our firm values the notion that people should be able to "eat dinner with their families every night." I'm hopeful that our work will better support the ability for us to collaborate and solve complex problems – without compromising the richness of life outside of architecture. We will need to make space for architects and designers to do deep, focused work. Leadership means providing support for intense work when needed, and guardrails to make sure that individuals get the recovery they deserve.


You've been working on a range of educational projects of late. What interests you most about this work?
I have a special place in my heart for the well-being and development of young people. It's no secret that the pandemic has affected children and youth disproportionately. I am curious about how architecture can be "trauma-informed" and pointed toward health and continuous healing. For me, the first step to developing restorative environments in education is becoming as deeply embedded in the client community as possible. Understanding the unique context of each assignment, combined with our design expertise and curiosity about what healing means to each community, propels us towards cohesive solutions distinct to each situation.


How do you nourish creativity and inspiration outside the office?
With the pandemic lingering, simple activities have replenished my spirit: breaking bread with close friends, listening to great music, sketching and doodling, sewing garments from self-drafted patterns, cooking, spending time in nature, and practicing Iyengar Yoga. I also have a previous life as a performance artist, but that itch has not been as salient in the past few years. I expect one day it will come back!